MRC Mission Statement
"To Improve the facial and dental development of the growing child and allow treatment for orthodontic and TMJ disorders to be available to all populations with the use of modern and less complex techniques".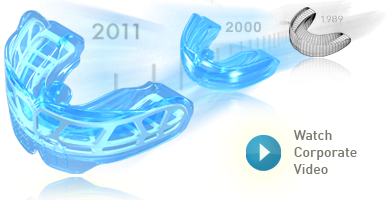 MRC - Education for a Healthier Future
Myofunctional Research Co. (MRC) has been developing innovative intra-oral appliances to treat the causes of malocclusion and TMJ disorder since 1989.
MRC developed these concepts of treating malocclusion into a range of appliance systems suitable for growing children of all ages. Although a significant number of doctors around the world currently use these systems, many do not realise that MRC has developed more than just orthodontic appliances.
MRC's fundamental philosophy differs from other international companies as the focus is not only on developing orthodontic appliances, but on providing both the public and professionals with educational materials highlighting importance of correcting myofunctional habits in children as early as possible. MRC's main goal is not just straightening teeth without braces, it is to make a lifelong positive impact on the development and health of children.
MRC has been able to achieve better health and development for patients through creating effective education for doctors, parents and patients. This dedication to delivering quality educational materials is a crucial part of MRC's role as an active educational company.
The key is to educate at every level: from the growing child right through to the doctor. Providing proper education can empower doctors to break out of the old, out-dated concepts of orthodontics; leading many to better and more profitable methods of delivering proper care for more patients.
Providing comprehensive education materials in combination with a range of effective orthodontic appliances produces a healthier and brighter future for all.

Company History
Over the past 100 years there has been considerable research published about the causes of orthodontic and jaw (TMJ) problems. Dr. Chris Farrell discovered that most of these causes are to do with incorrect breathing and swallowing - also known as incorrect myofunctional habits. Unfortunately the majority of the dental and medical profession in the 1980's did not know or did not accept this research, although the majority of children in any population had a developing malocclusion and with many adults suffering pain from TMJ disorder. These widespread disorders were not being adequately treated because of the lack of knowledge and resources. Dr. Chris Farrell decided to address the treatment of these problems using intra-oral appliances with appropriate design characteristics built into each universal fitting model. This would allow many more patients access to this treatment and would allow both doctors and trained auxiliaries to perform this type of treatment much more efficiently than was previously possible.

Computer aided design (CAD) technology at this time (1989) was in its infancy, and no intra-oral dental appliances had yet used this technology. However, this has been a crucial part of the development of MRC's products.
Since 1991 the products have been introduced into firstly Australia and New Zealand via the dental and medical professions. Considerable time was needed to acquire the necessary government approvals to expand into other countries; however, by 1993 FDA approval for the USA and European approvals had been granted, allowing the educational process to commence on a wider scale. Japan, south-east Asia and South America followed in subsequent years. Dr Farrell and Dr Flutter lectured extensively in these countries to illustrate the advantages of the new Trainer and TMJ Appliance™ systems.
Although the concepts were not particularly new, the acceptance by the professions has been slower than expected, sometimes due to insufficient knowledge of the subject and other times as a result of political resistance. At the present time, the products have overcome many of these barriers and are now being used in more than 100 countries throughout Europe, the Americas and in Asia.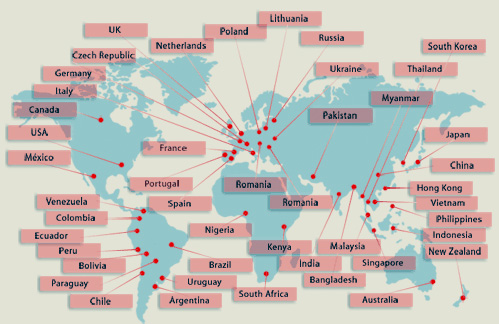 Myofunctional Research
In the process of research into the subject of temporomandibular joint (TMJ) dysfunction and malocclusion there was an underlying commonality between the causes of these two diseases. Research into myofunctional issues appeared to be most neglected in orthodontic and TMJ treatments methods. The more Dr. Farrell researched myofunctional problems in his patients, the more he realised that a new approach to treatment was necessary.
Crowded teeth were not caused by big teeth and small jaws inherited from parents. Clenching and grinding of the teeth did not cause jaw problems. The causes were all myofunctional and could be treated with a myofunctional philosophy and technique.
The lack of knowledge by the professional in this area was hampering the treatment of the disorders and many held widely differing opinions. Exstensive myofunctional research and clinical experience combined with the latest CAD facilities at the time (1990) meant it was possible to produce universal size intra-oral appliances that had therapeutic characteristics to influence the oral musculature and subsequently treat patients myofunctionally.
The CAD design facilities from The Queensland University of Technology (QUT) and The Queensland Manufacturing Institute were paramount in the development of MRC's appliances and treatment methods.

The Applications
The first product produced by MRC was the TMJ Appliance™. This allowed the medical and dental professions to diagnose and treat TMJ disorder quickly and effectively. Next the area of orthodontics was addressed with the Pre-orthodontic Trainer™ which assisted in improving poor myofunctional habits while providing tooth guidance to correct malocclusion in the growing child. The following Trainer for Braces™, Trainer for Alignment™, Trainer for Function™ and Trainer for Universal™ were introduced as logical steps in improving treatment stability, reducing treatment time, and lessening the need for extractions.
Dr. Chris Farrell moved his attention to sports mouthguards in 1998. Retail mouthguards were often of poor fit and provided very little protection. Custom-made mouthguards from a dentist were inconvenient and prohibitivley expensive at the time. Applying the same CAD technology as used in the TMJ and orthodontic appliances, Dr Farrell has produced the most advanced mouthguard range for the retail market. These were introduced into the North American market under the Shock Doctor brand and additionally as Powrgard® in Europe and Australia.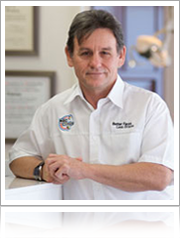 CEO and Founder of Myofunctional Research Co.
Dr Chris Farrell BDS (Sydney)
Dr. Farrell graduated from Sydney University in 1971. His father was also a graduate of Sydney University School of Dentistry (1950).
During his studies Dr. Farrell was trained in Orthodontics, particularly in the BEGG Technique. After graduation he practiced general Dentistry in Sydney for 5 years then moved to England, continuing general practice and some orthodontics, studying under the likes of Professor Harold Gelb (New York), Professor Pertes (UMD New Jersey) and the Parkey Institute (England).
He then continued his orthodontic re-education with the techniques of Dr. John Mew (UK), Dr. John Witzig (USA) and Professor Hinz (Germany).
In 1986 Dr. Farrell returned to Australia and began a practice specialising in TMD and orthodontics. Here he was also introduced to the simpler myofunctional training techniques of speech therapists, Hale and Atkins, the Chewing Brush of Dr. Kevin Bourke and the Occlusoguide® of Dr. Bergersen (USA).
From this clinical experience and further research, Dr. Farrell realised the etiologic of malocclusion and TMJ Disorder was myofunctional, thus contradicting the current views of his profession. He then developed the Trainer (T4K®) and TMJ Appliances to prove he was correct. He founded Myofunctional Research Co. (MRC) in 1989, which has helped substantially in marketing his Trainer and TMJ systems of prefabricated appliances worldwide. MRC continues to develop new "myofunctional" orthodontic appliances and educational programs such as, the "Myobrace Certified Provider" program – a global initiative which aims to make orthodontics more accessible to a wider range of patients whilst providing financial benefits for both the doctor and patient.
He has presented to universities in Sweden, Denmark, Ireland, Italy, Mexico, Russia and Vietnam. Other presentations have been given to orthodontists in Europe, USA, Brazil, Japan, Korea, Indonesia New Zealand and Australia.
Dr. Farrell holds 6 world patents for prefabricated appliances for myofunctional orthodontic and TMD treatment, as well as for new mouthguard technology. He is the designer for Shock Doctor®, the largest manufacturer of sports mouthguards in the USA. His myofunctional orthodontic appliances are now used by dental and medical professionals in over 100 countries worldwide.